5 ideas for easy DIY wedding table centerpieces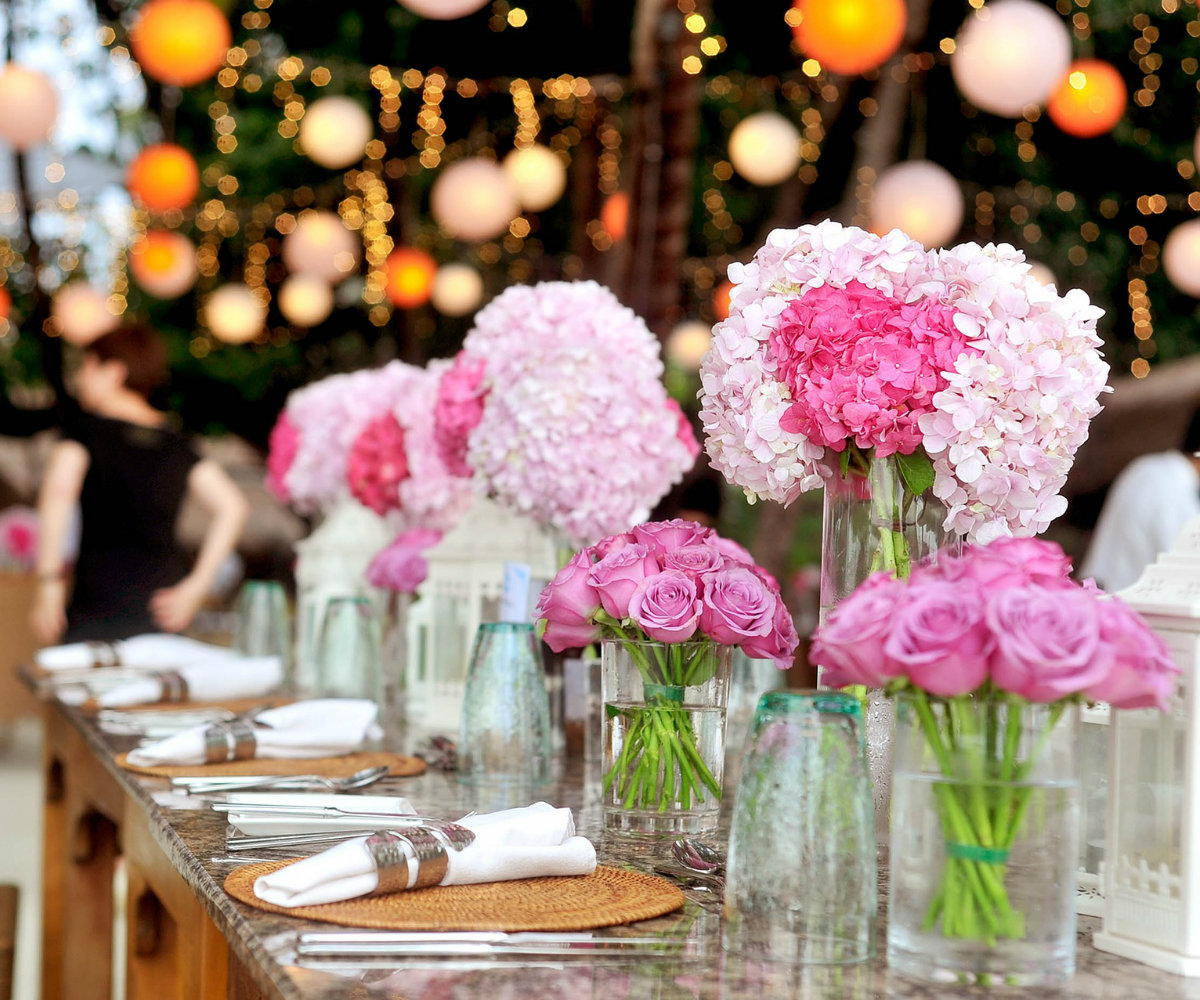 One surefire way of making sure that your big day is unique is by having a DIY wedding day.
Making your invitations, decorations and favors yourself means that they will personal to you. However, be realistic about the amount of time you have available to you and don't be overly ambitious. Planning a wedding can take up a lot of time and you don't want to missing out on your beauty sleep because you're up and awake in the small hours making paper flowers and printing invitations.
Mind you, there are some easy and quick ways to DIY your wedding and choosing simple table centerpieces is one of them. Here are a few ideas we've come across we think you'll like.
1. Scented rose petals in hurricane lanterns
You can buy inexpensive glass hurricane lanterns online - we found some here on Amazon. Choose ones that are about 15cm high, so they don't dominate the table or block the guests' view. Just before the guests arrive, put in a white church candle, add a little water and sprinkle in fresh rose petals. Job done! Then light the candles.
2. Add some sparkle
Place inexpensive colored glass chippings (you can buy different shades here on Amazon) in clear glass globes or hurricane jars, then a string of battery-operated fairy lights (buy here) on top. Add some blooms (roses work well) on top and then light up just before your guests walk in. A low cost idea that really has the wow factor.
3. Winter branches
Simple yet stunning centerpieces for Priya and Alex engagement celebration planned, styled and coordinated by us. venue @internationalofbrighton We had an amazing time planning this event. Photography by @ferndara . . . #weddinginspiration2017 #gettingmarried #weddingplanning #weddingstyling #weddingstylist #weddingstylistmelbourne #weddingdecoration #wedding2017 #weddingdecor #weddingideas #weddingcoordinator #melbournewedding #weddingplannermelbourne #weddingplanner #weddingdecoration #weddingcoordinatormelbourne #dreamwedding #instawed #instawedding #lankanweddingmelbourne #srilankanwedding #srilankanweddingmelbourne #centerpieces #weddingcenterpieces
You can buy decorative branches in florist suppliers or online. For a rustic look choose bare bark but if you want some festive shimmer then go for branches in silver or gold. Wrap fabric around the base that ties in with your theme and then add Christmas decorations or wire on flowers.
4. No flower budget? Try this one
If your floral budget is severely limited but you still want to have fresh flowers on every table, then try this. Buy some inexpensive bud vases in different heights (charity/thrift shops are a good place to find them) and then put odd numbers on every table, filled with a single bloom. Don't choose just one type of flower - mix it up. Here the bride has used a sprig of delphinium (blue), wild grasses and statice. The trick is to always have an odd number of vases - three, five or seven. Don't worry if the vases don't match - you can mix up glass, ceramics and different colors. Experiment with what works for you.
Dreaming of #bohemian summer outdoor #wedding days! We also create custom handmade centerpieces, like this eclectic boho assortment of #vintage, hand painted & wrapped vases, #handdyed #shibori Table Runner & #calligraphed agate. . . . #indiewedding #handmadewedding #tablescape #weddingcenterpieces #bohowedding #outdoorwedding #phillyweddings #phillyweddingstyle #jerseyshorewedding #calligraphy #diywedding @alexa_granger @mlangelos 📷: @nikkiandchip
5. For a rustic wedding
If you're having a wedding out in the countryside, then keep things simple with this simple table centerpiece idea. Place candles in clear glass hurricane lanterns, then place lengths of cut greenery alongside (eucalyptus has been used here). This works best on long, trestle-style tables with the candles arrayed down the centre.
We now have glass cylinder bases with candles for rent! #weddingrentals #weddingtable #napawedding #weddingrentals #blossomfarmvintagerentals #tahoewedding #weddingcandles #weddingcenterpieces #weddingdecor