7 ideas for purple themed wedding styling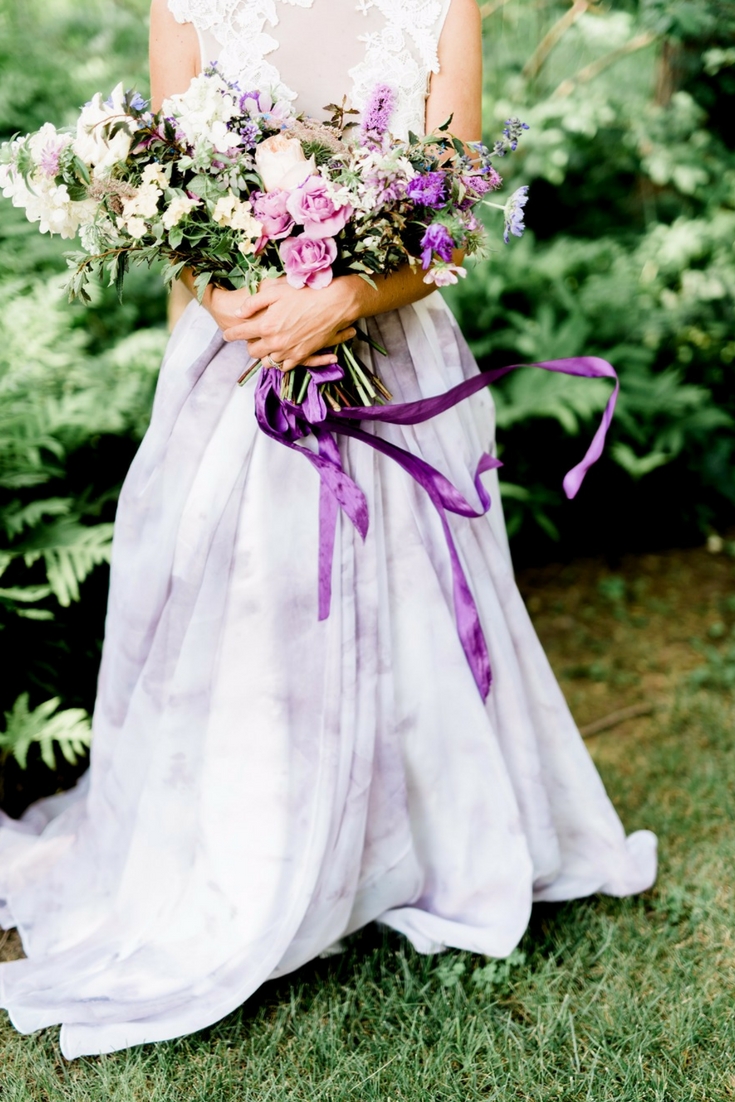 One thing we've noticed is that a lot of brides like the color purple. Or purple in all its different shades - lilac, violet, mauve, magenta ...
Of course, you might not want to wear a purple wedding dress. (Which might be a step too far from tradition! )
But there's nothing to stop you wearing delicate lilac wedding shoes, carrying a bouquet of mauve flowers, choosing a violet themed wedding cake, having purple wedding favors of some description, lilac stationery ..
So we've tracked down a few ideas for purple wedding accessories to inspire you on your way ...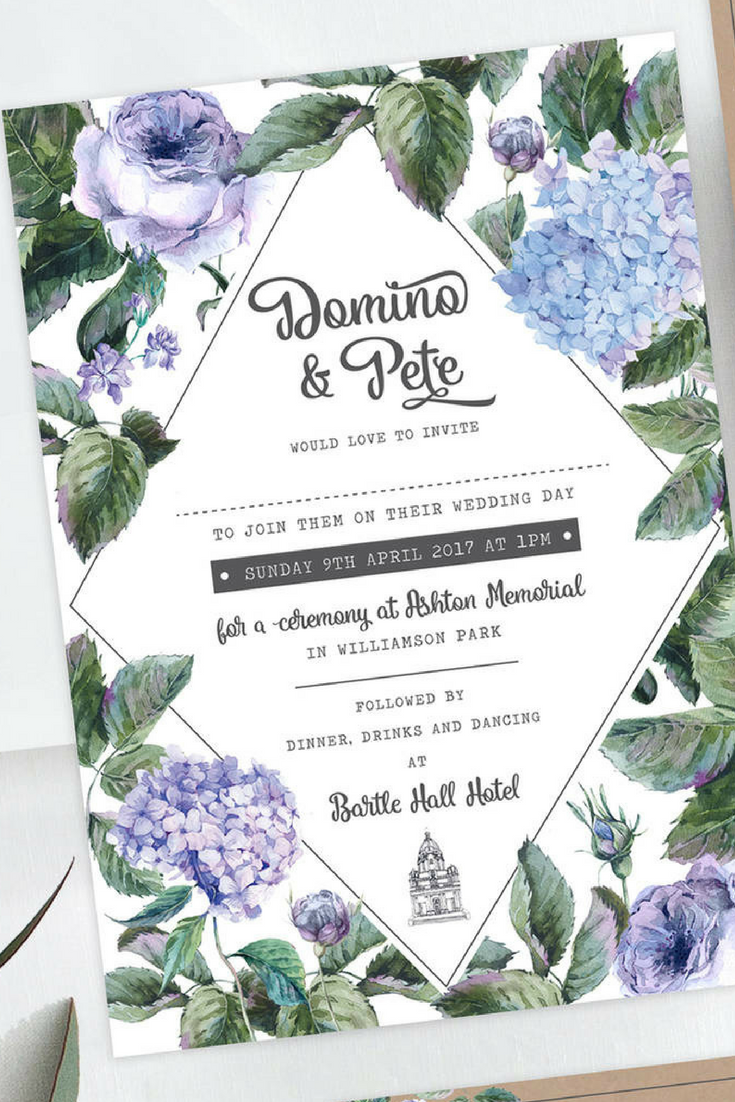 Wild Roses Floral Wedding Invitation via Not On The High Street
1. We picked out this wedding invitation because it's kind of purple lite. It definitely gets the purple wedding idea across but it's subtle rather than in your face. In addition, it brings all sorts of other ideas to the party - like purple hydrangeas, anenomes, lilac colored roses ...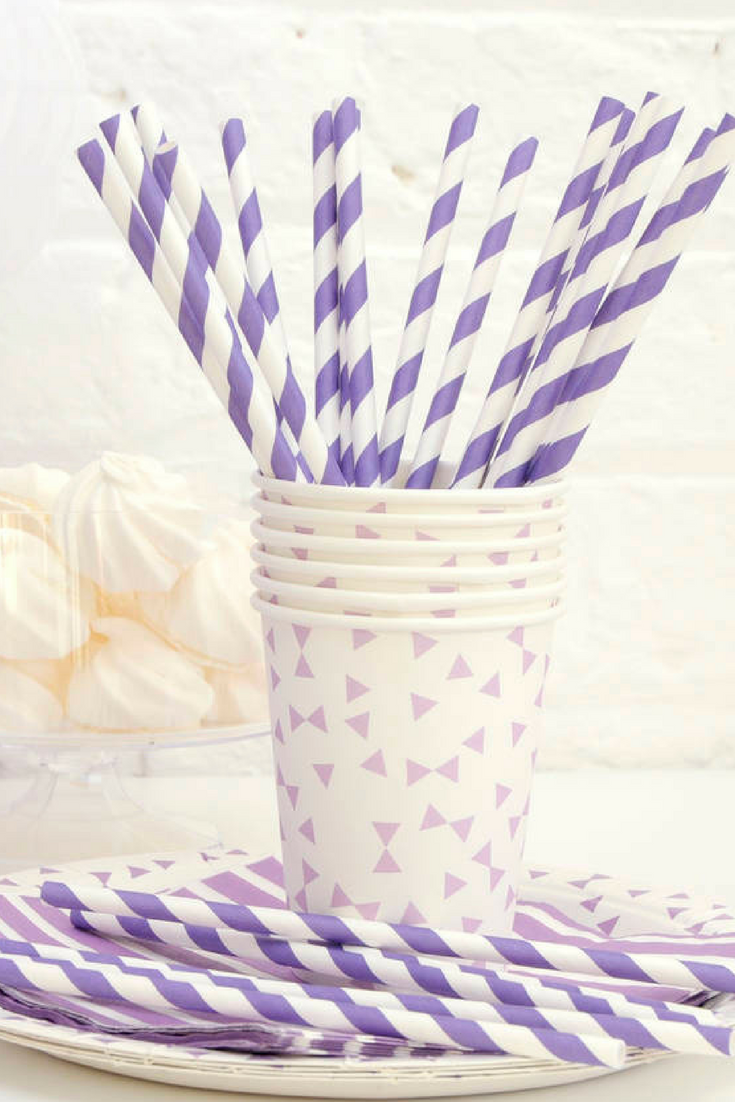 Purple striped straws via Not On The High Street
2. If you're having a milkshake bar, candy table or in fact any kind of a buffet, then it's a must-do in shades of mauve and violet. Love these purple striped straws - remember to line them up in same direction when you're laying out the drinks so that they look uniformly fabulous.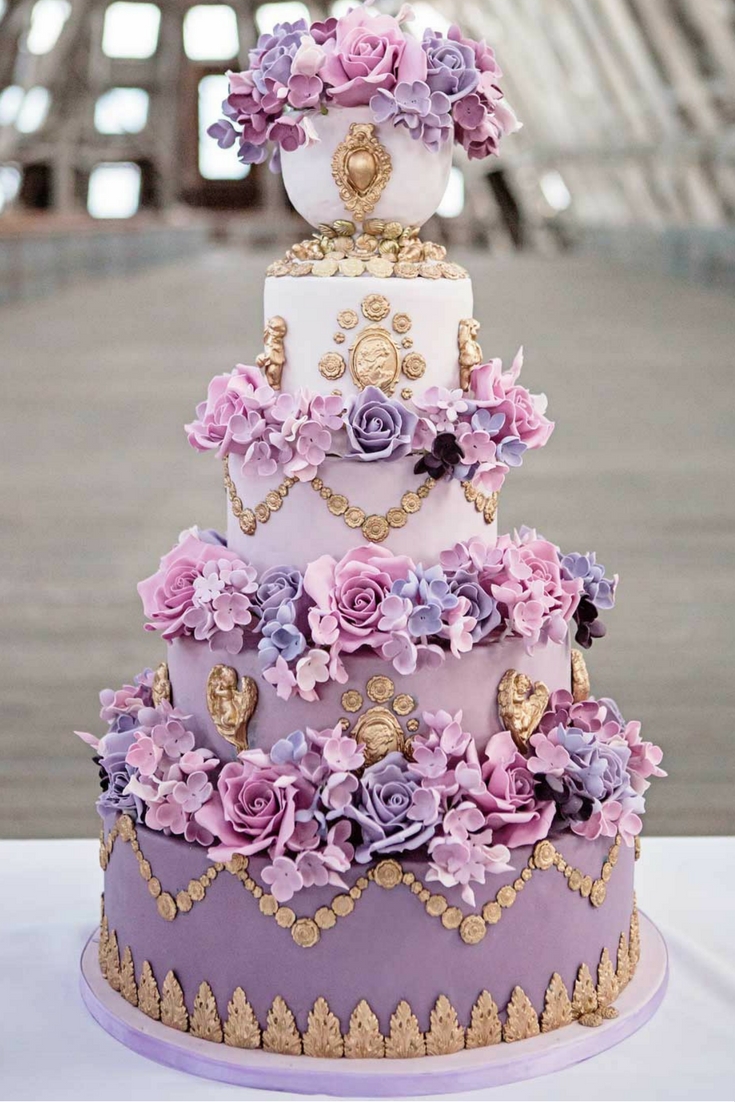 Marie Antoinette Cake by Elizabeth's Cake Emporium
3. A purple wedding cake in different shades of lilac and mauve could be truly spectacular. This one is a work of art. On the other hand, you could be a bit more low key with your wedding cake by decorating it with fresh flowers in shades of violet and purple.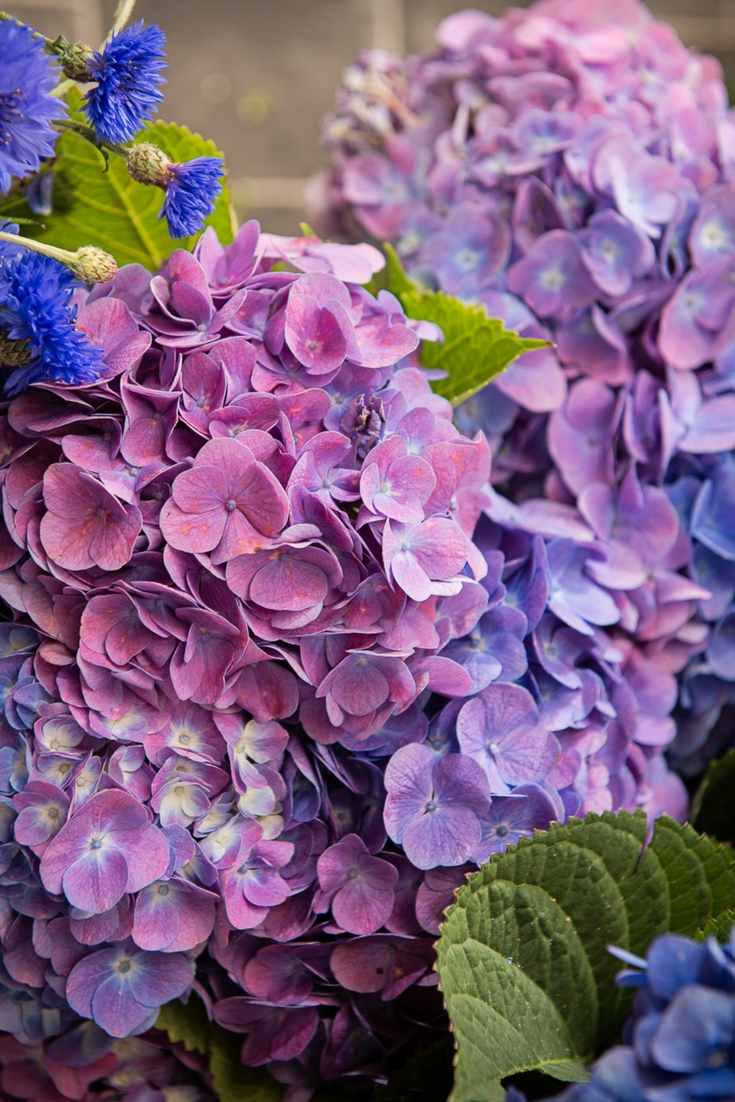 (Image via Helen Helas Florist)
4. Flowers come in an abundance of purple shades - depending on the time of year you can choose from tulips, anenomes, ranunculus, gerberas, irises, hyacinths, hydrangeas - just talk to your florist. A mixture of purple flowers - with an ombre effect - would look wonderful on your wedding tables and in your bridal bouquet. The image above shows hydrangeas - which would work well as ombre as they are naturally shaded - they are also relatively inexpensive and look very showy.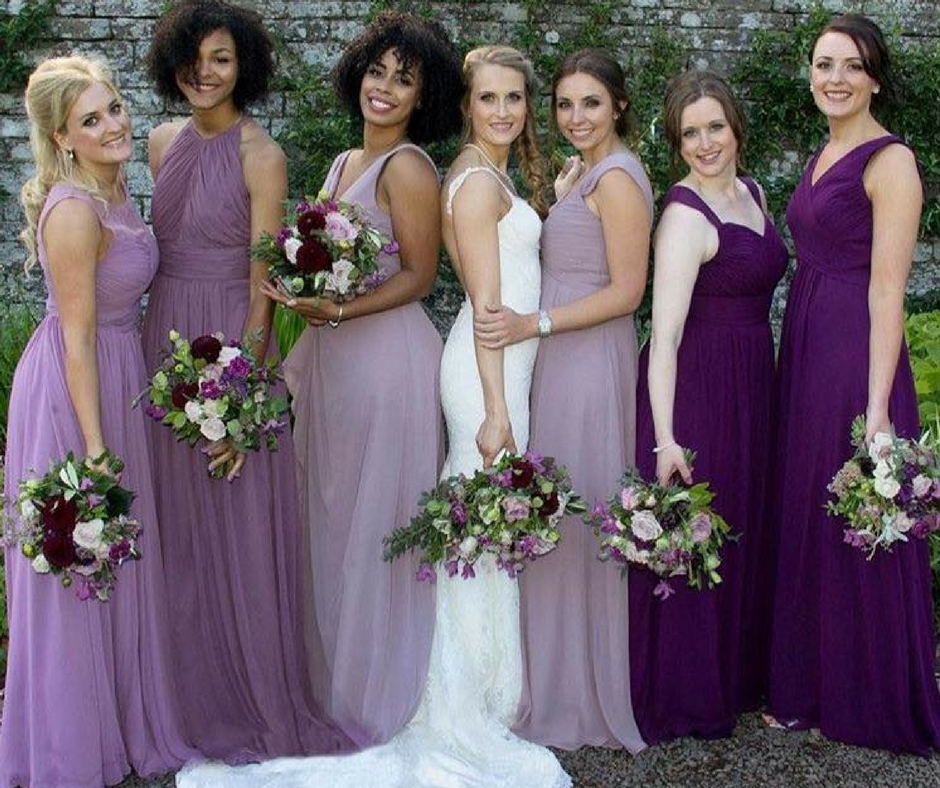 (Bridesmaid frocks featured above by Dessy)
5. Have a look at Dessy's bridesmaids dresses in shades of purple. Another good way to create a graduated ombre effect. Dress one maid in a light mauve and put another in a deep purple. Why not leave them to pick their styles to suit them - just specify whether you want long or cocktail length.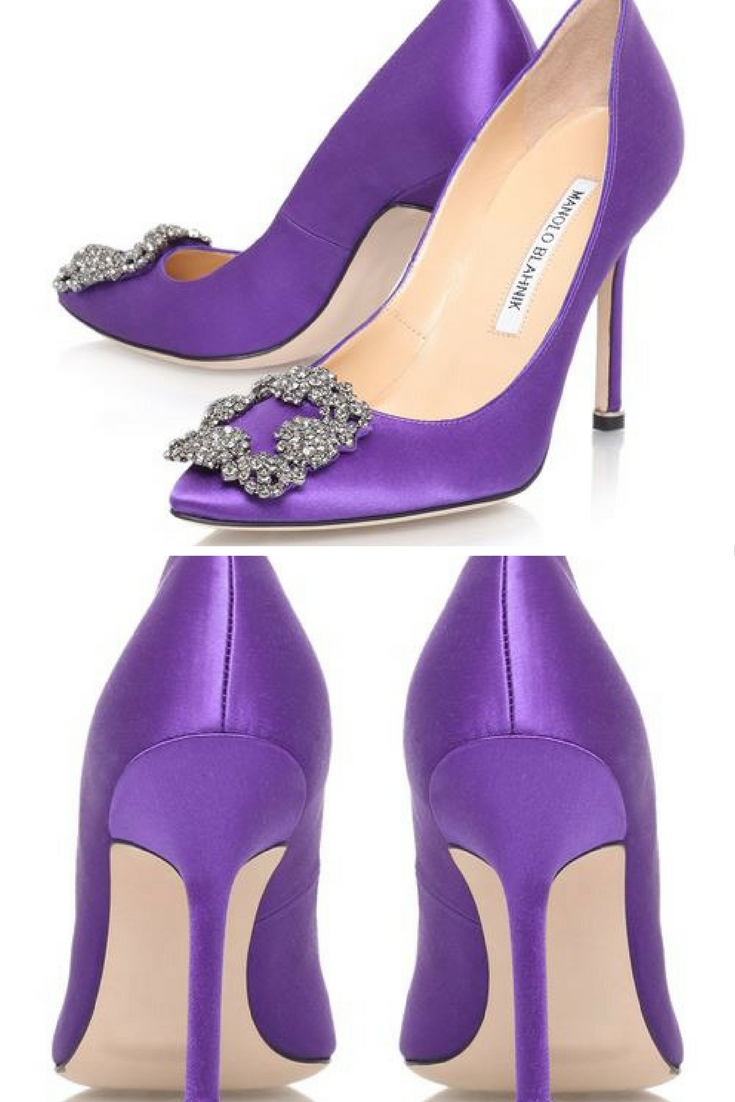 (Purple shoes by Manolo Blahnik)
6. Shoes. In our view one of the accessories you're going to have most pleasure choosing. If you can't find the exact shade of purple you're looking for then try Rainbow Club who'll dye your shoes in almost any shade you can imagine. Remember you can use Dessy's Pantone color tools to match up the shade.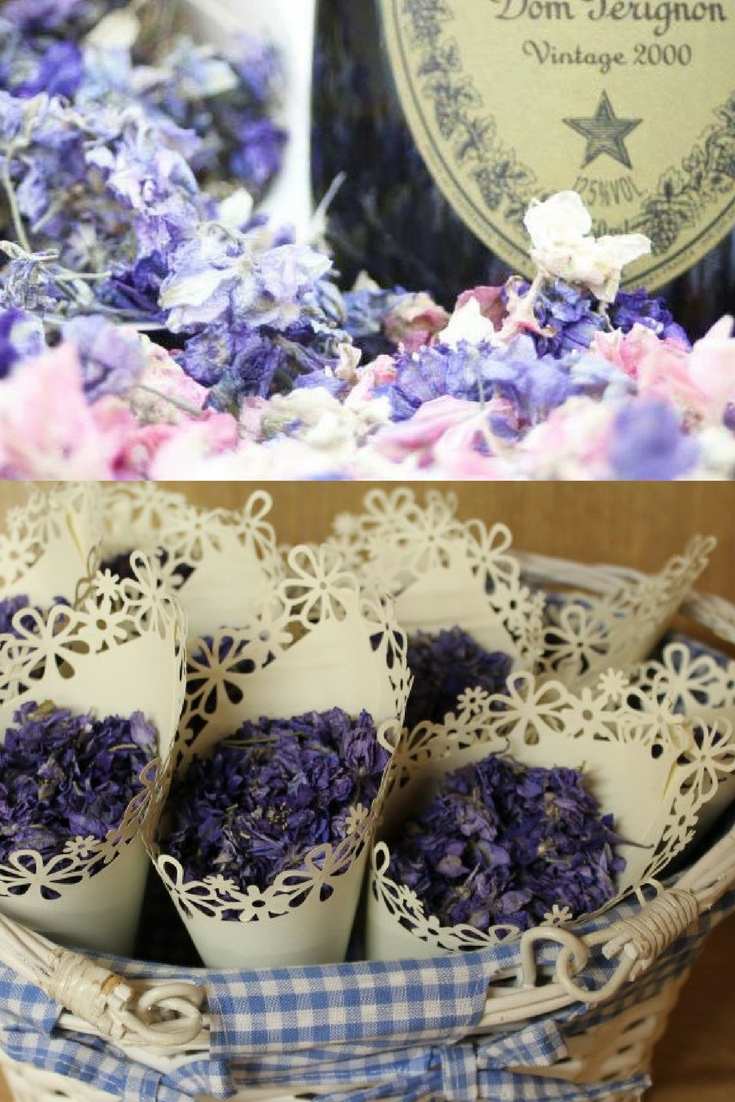 7. Confetti
Beautiful clouds of lilac confetti. Give out paper cones at your ceremony to make your guests feel involved. Choose lilac biodegradable confetti made from real flowers.