14 stunning photos of wedding shoes (and how to choose the perfect pair)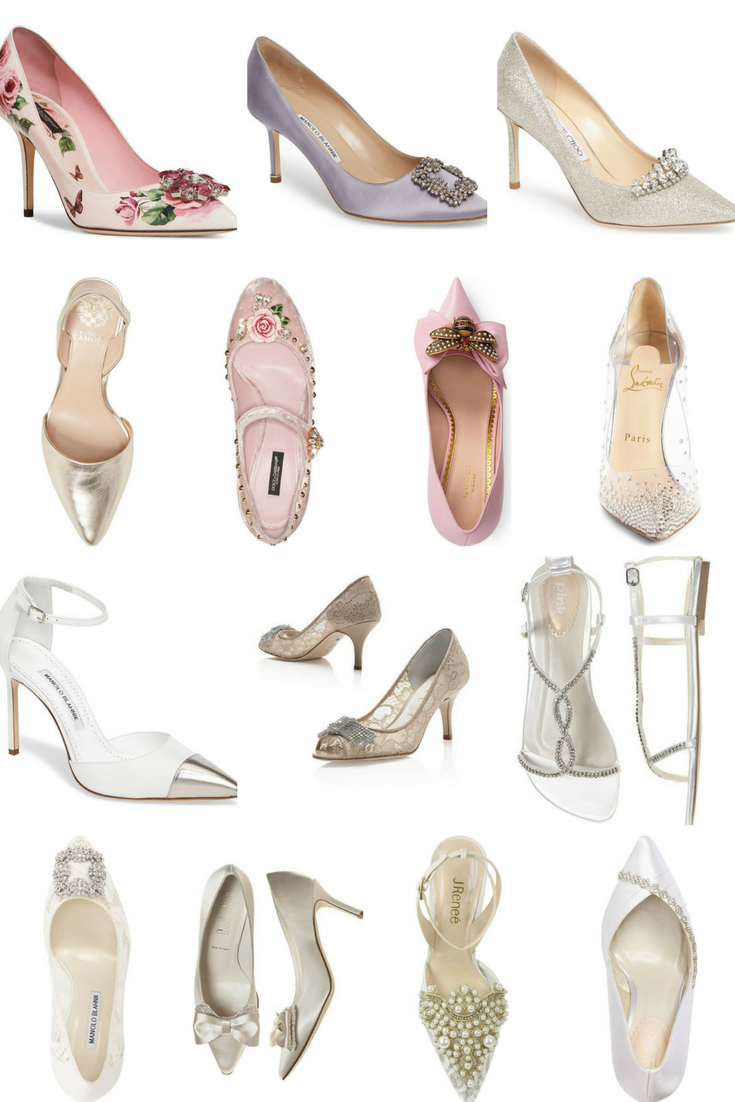 It's a small detail in your overall wedding day look, but an important one.
Your wedding shoes need to show off the dress you're wearing perfectly. You may want to hide them away under your dress, with just the merest glimpse, but they're still very important.
Here's what you need to be thinking about when you're choosing your wedding day shoes.
Are the shoes comfortable?
While some shoes may be deceiving and feel comfortable in the store, will they be comfortable for hours at a wedding? Make sure to walk in them for a while, do a little dance if you have to, in order to see if they can withstand anything your day may include.
Can you manage the height?
While you may have fallen in love with a certain pair of shoes, are they too high? You want to make sure the height works for you and that you can in fact walk in them. Pick out shoes you love in varying heights before you choose the tallest one. If you never wear heels but are desperate to on your big day, then you're going to have to get some practice in at home. A well-known supermodel said you should wear heels at home until you can walk in them without blinking an eye. Just make sure you wear them on the carpet so you don't scuff them accidentally.
How about colors?
You may want to go with a metallic if you are a bridesmaid, because unless you are getting shoes that are dyed to the color of your dress, finding a shoe that is exactly the color of your dress could be difficult. If you are the bride, a white or ivory shoe will work just fine here. Alternatively you could choose a bright color or a pastel, a floral design, a key detail, beading ...
How much should you spend?
If you've always wanted a pair of Christian Louboutins or Manolo Blahniks, then this might be the time to work them into your wedding budget. If you choose shoes that you will wear over and over again, then the cost per wear goes down dramatically so a pair of fabulous heels that get a regular outing could ultimately work out cheaper than a pair of white or ivory bridal shoes you'll only wear once. It's certainly something to think about.
Should your maids all wear the same shoes?
Not necessarily. Some of your bridesmaids may be fans of heels, others prefer flats or a low heel. They don't all have to wear the same color either. Talk to them about shoe choices before making any decisions. It's important they feel comfortable and wear something that flatters them.
Bring your wedding shoes to your dress fittings
The best way to get a good idea about the length of your dress is to bring shoes to the fitting. It will give the seamstress a chance to see how much she needs to shorten.
Will your wedding shoes take a good photo?
Today some of the most popular pictures being taken are of the bride's shoes, so make sure to pick a pretty pair for the wedding.
Image credits from left to right.
Top row: Dolce & Gabbana, Tory Burch, Jimmy Choo
Second row: Vince Camuto, Dolce & Gabbana, Gucci, Christian Louboutin
Third row: Manolo Blahnik, Dessy, Dessy
Bottom row: Manolo Blahnik, Dessy, J Renee, Paradox