A Twist on Tradition: Four Unconventional Bridesmaid Dresses That Create a Unique Look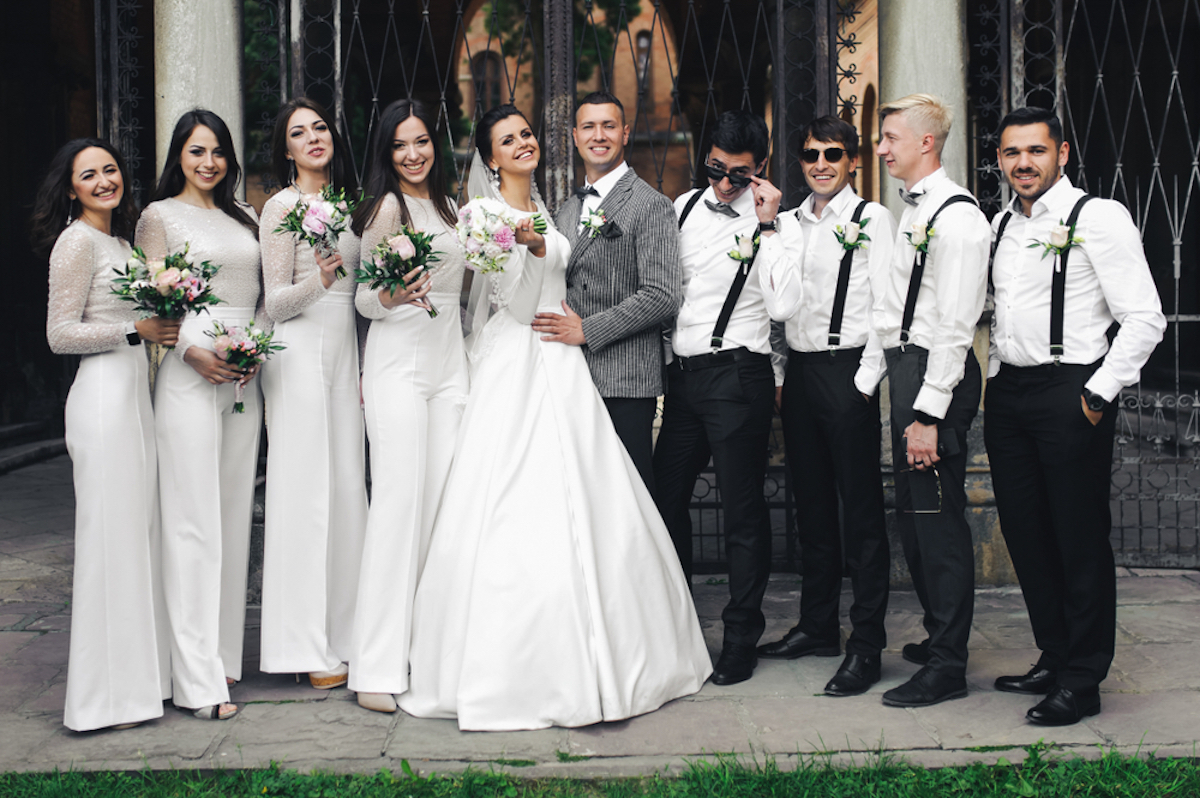 As much as we love weddings that are steeped in tradition, it can be refreshing to see a bride who isn't afraid to go the unconventional route with her bridal party. Whether it's a unique color or trendy detailing, putting a small twist on tradition can effortlessly elevate your squad's style.
If you want your bridesmaids to stand out on your big day, there are plenty of unique bridesmaid dresses that will match your wedding theme, style and — most importantly — look amazing on your leading ladies. Plus, with the right style moves, you can put a fun little spin on wedding tradition without straying too far off the beaten path.
Need some unique bridal party inspo for your big day? Check out these four unconventional bridesmaid styles that are sure to make your crew stand out.
1. All White Bridesmaid Dresses
White wedding dresses have been the most popular choice for brides ever since Queen Victoria walked down the aisle in a gorgeous white number in 1840. Although it's still considered a huge breach of wedding etiquette for guests to wear white to a wedding, this same rule doesn't need to apply to your bridal party.
Brides typically avoid dressing their maids in white or off-white gowns because they want to stand out in their white wedding dress. That being said, if you're wearing a non-traditional wedding dress color or you're simply not afraid to buck convention, outfitting your squad in white bridesmaid dresses can be tastefully done and look absolutely stunning.
How to Pull It Off: The trick to pulling off the all-white bridal party look is to make sure that you still stand out from your bridesmaids. To give you an example, check out this #DessyRealWedding, where the bride wore white and her squad donned gorgeous, ivory bridesmaid dresses in Dessy style 1502.
The slight tint to her bridesmaids' dresses allowed the bride to stand out just enough to make this unique style work. You can also make your squad stand out with different hairstyles, bouquets, etc.
2. Tuxedos for Women
Who says tuxedos are just for men? Tuxedos for women have been growing in popularity lately, especially after Cara Delevingne wore a tuxedo to Princess Eugenie's wedding late last year.
If you're thinking about dressing your squad in tuxedos, you definitely want to get their input first. Not everyone feels comfortable breaking societal norms, and you want to make sure that your whole squad feels good about what they're wearing on your big day.
How to Pull It Off: Though dressing your maids in anything other than a dress is a risky style move, it can be super chic when it's done properly. One thing we recommend is having your bridesmaids wear heels with their tuxedos. It gives their ensemble a feminine touch that will take any bridal tuxedo or pantsuit to the next level.
3. Two-Piece Bridesmaid Dresses
If you're searching for a unique bridal party look that all your girls will love, consider dressing them in bridesmaid separates for your big day. The two-piece bridesmaid dress trend is always a winner with brides and bridesmaids alike for their incredible versatility.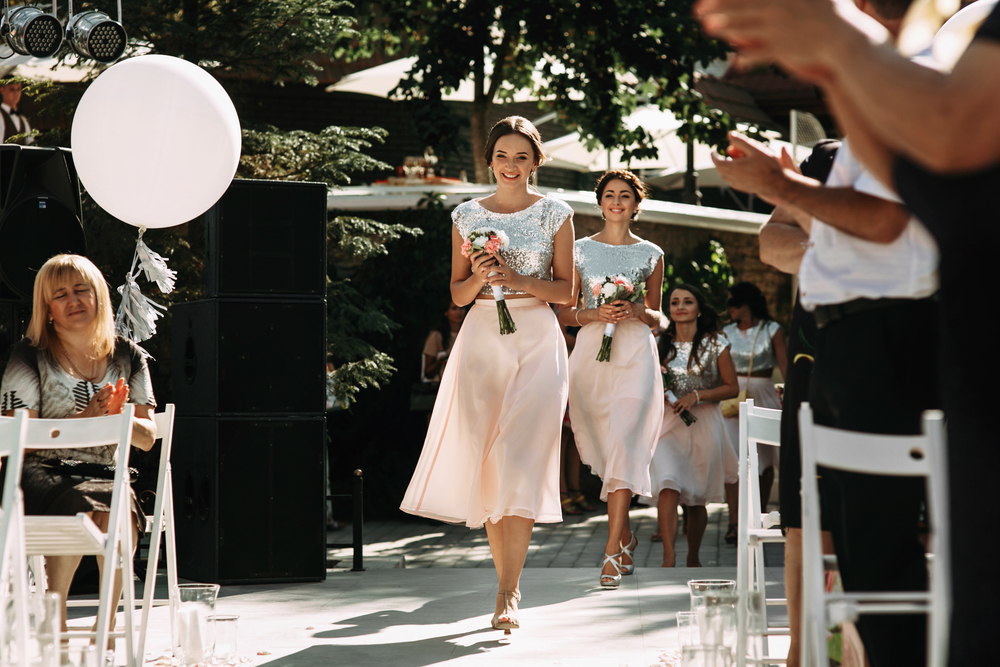 From pretty sequins and lace bridal tops to gorgeous floral-patterned skirts, there is an endless number of ways to mix and match your bridesmaid separates. And with most bridesmaid separates, your bridesmaids can easily re-wear their wedding outfit long after the ceremony is finished.
How to Pull It Off: Truthfully, it's hard to go wrong with this look, which is one of the many reasons why more brides are opting for bridesmaid separates these days. Have some fun with this style by choosing the same top while letting your maids choose different color bottoms in your wedding color palette.
4. Bridesmaid Jumpsuits
Jumpsuits are a fun twist on the traditional bridesmaid dress and can make your besties look seriously polished and chic. It's a great way to make a big style statement without making it seem like you're trying too hard.
How to Pull It Off: Though your gals will surely love wearing jumpsuit bridesmaid dresses for your big day, it's important that you choose a style that flatters each of member of your squad.
For petite members of your bridal party, take care in choosing a slim-fitting jumpsuit that flatters their smaller size. If you choose a wide-leg, at least make sure that the top is fitted so they don't look like they're drowning in fabric.
If your bridesmaids are on the taller side, you don't need to worry as much. To flatter their tall frame, opt for a jumpsuit style that hits just above the ankle.
Putting Your Own Spin on Bridal Party Fashion
There you have it: Four unique styles that will give your bridal party that wow-factor without distracting too much from the bride. Just remember: You don't need to be too creative with these styles — they're creative enough as it is!