How to Choose Your Bridesmaid Dresses: The Ultimate Guide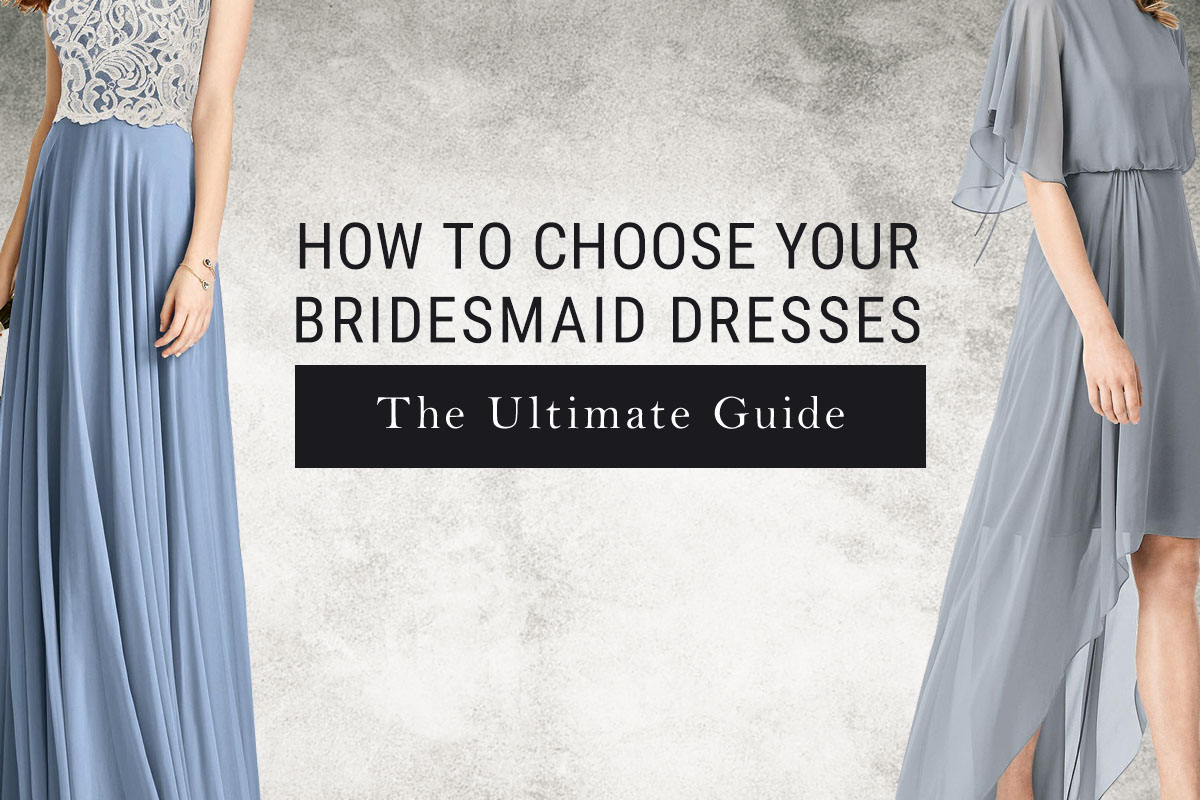 Choosing the best bridesmaid dresses for your special day can be overwhelming, to say the least. On top of an endless number of color options, styles and silhouettes to consider, there's also the not-so-simple matter of choosing bridesmaid dresses that fit and flatter each member of your crew.
Oh, and did we mention that everyone has different budgets, preferences and shopping expectations? While it's not your job to please each of your bridesmaids, you still want to ensure that everyone looks and feels amazing in their bridesmaid dresses.
If all this sounds a little daunting, don't sweat it. We've put together an easy-to-follow guide that will simplify your bridesmaid dress shopping experience and make everyone look amazing for your big day.
Set a Reasonable Budget
Before you start thinking about bridesmaid dress styles or colors, the first thing you'll want to do is set a dress budget. Yes, being a bridesmaid is a huge honor — but not everyone is going to be thrilled to spend $200 on a dress they'll never wear again.
Money may be a sensitive topic for some of your leading ladies, so be careful with how you approach the subject with them. Consider talking with each of them one-on-one about their bridesmaid dress budget expectations.
Once you have a sense of what each of your bridesmaids can reasonably afford, you can set a budget that won't stress everyone out. Even if their budgets are mid-range to high-end, it doesn't hurt to browse affordable bridesmaid dresses that will make everyone look good for a lot less.
Pick a Dress Shade
After perusing all the most popular wedding colors and staring at color swatches for hours on end, you've finally settled on a beautiful wedding color palette. Now, it's time to decide which colors from your wedding color palette will best suit your bridesmaids.

There are several things you'll want to keep in mind while picking a dress shade for your crew:
Venue. Are you planning a garden party wedding? Bridesmaid dresses in pastel colors and soft shades will fit this setting like a dream. Saying "I do" by the sea? Consider opting for bridesmaid dresses in shades of blue to match the sea and sky.
Season. As much as you desperately want those gorgeous, eggplant bridesmaid dresses in your wedding, dark purple may not be the best choice for a daytime summer wedding. Similarly, floral print bridesmaid dresses will look out of place in the winter.
Skin tones. Do your bridesmaids have similar skin tones? Take advantage by choosing a color that flatters them. If they have a wide range of skin tones, consider creating an ombre effect with your bridesmaid dresses for an absolutely stunning bridal party look that goes perfectly with each of their complexions.
Need some wedding color inspiration? Check out our wedding inspiration style board gallery and peruse by season, color or theme.
Opt for Flattering Styles
Maybe one of your bridesmaids has killer legs that she'd like to show off but hates her tummy (the curse of being an apple shape). Perhaps, another member of your squad has a toned tummy and no chest to speak of.
Chat with your bridesmaids and ask them to be honest with you about their best and worst features. This way, you can pay close attention to dress styles that will look fabulous on everyone.
Here are a few additional tips for choosing flattering dress styles for your bridesmaids:
Pick A-line dresses. If there is one dress style that is universally flattering on everyone, it's the A-line dress. This tried and true number looks amazing on any body type because it's fitted at your natural waist to create flattering angles.
Play around with necklines. Specific types of necklines can accentuate certain features. Allow your bridesmaids to experiment with necklines to create a look that everyone loves.
Consider bridesmaid dresses with sleeves. If one or more of your bridesmaids are self-conscious about their arms, bridesmaid dresses with sleeves can easily solve the problem. Plus, your girls will thank you if you're marrying in the winter.
You can also outfit everyone in our Dessy Twist Dress to achieve a universally flattering look. This convertible wrap bridesmaid dress can be styled in several ways so that everyone gets the look they want. It even works for pregnant bridesmaids!
Choose Dress Fabrics Wisely
When it comes to shopping for bridesmaid dresses, your choice of fabric matters more than you might think. There is your bridesmaids' comfort to consider, as well as the venue and theme of your wedding.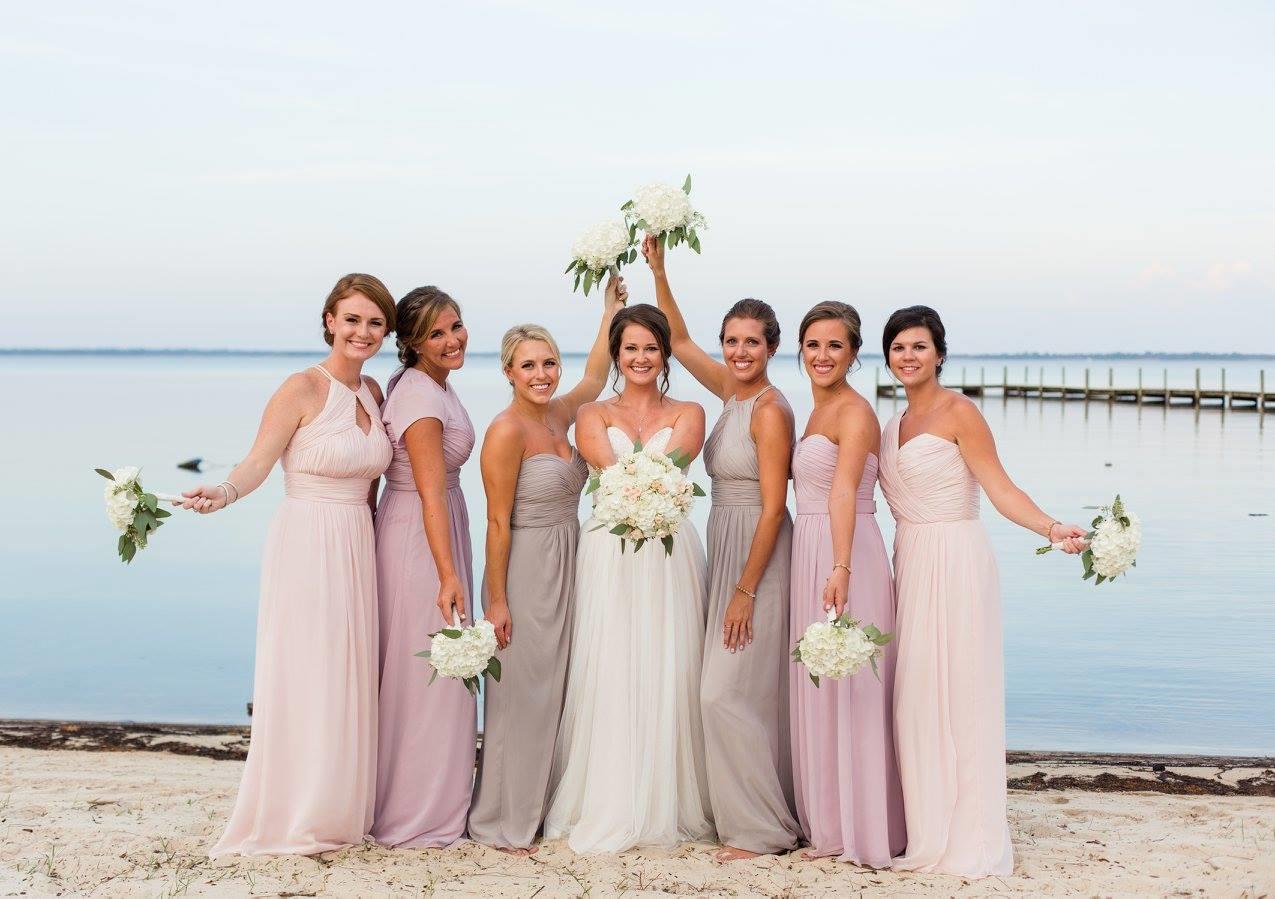 #DessyRealWeddings - Bridesmaids: Dessy Collection 2906, 2920, 2959, 2918, 2943, 2905; Colors: Suede Rose, Taupe, Blush; Photographer: @verahogenson; "I have been married 2.5 years now and still get compliments on my wedding, especially the romantic coastal colors we used!! I loved Dessy dresses allowing my bridesmaids to pick what they felt most comfortable in. Suede rose was my favorite color but I wanted to be a little out of the box and have a mixture of colors. Taupe and blush were wonderful compliments and it turned out to be the perfect unique pallet!"
Are you having an outdoor summer wedding? Chiffon is the go-to fabric for summer weddings because it's lightweight with a simple weave.
Throwing a luxe wedding in the fall? Satin has a lustrous shine that's perfect for evening affairs and cold weather weddings.
If you're a hopeless romantic, there's also classic lace bridesmaid separates to consider. To get a better sense of what you like and don't like, we recommend ordering a few fabric swatches and going over them with your bridesmaids.
Consider Popular Bridesmaid Dress Trends for 2020
If your wedding day is set for 2020 or beyond, it's important to pick bridesmaid dresses that will remain trendy for years — if not decades — to come. You don't want to look back at your wedding photos and cringe at the colors and styles you chose for your beautiful besties.
Which trends will remain hot in 2020? While we can't say for certain, these bridesmaid dresses have already demonstrated their staying power:
Blush bridesmaid dresses. You really can't go wrong outfitting your girls in blush bridesmaid dresses. Romantic with a modern edge, this pink hue is practically made for weddings. Best of all, blush works with all sorts of venues, seasons and complexions.
Dusty blue bridesmaid dresses. This demure shade of blue has had us swooning for years now. It's a universally-flattering hue that works beautifully with blue and gray wedding color palettes.
One-shoulder necklines. Let your bridesmaids channel their inner-Greek goddess with one-shoulder bridesmaid dresses. This Grecian-style dress has been trendy for ages (thousands of years, really) and isn't going away any time soon.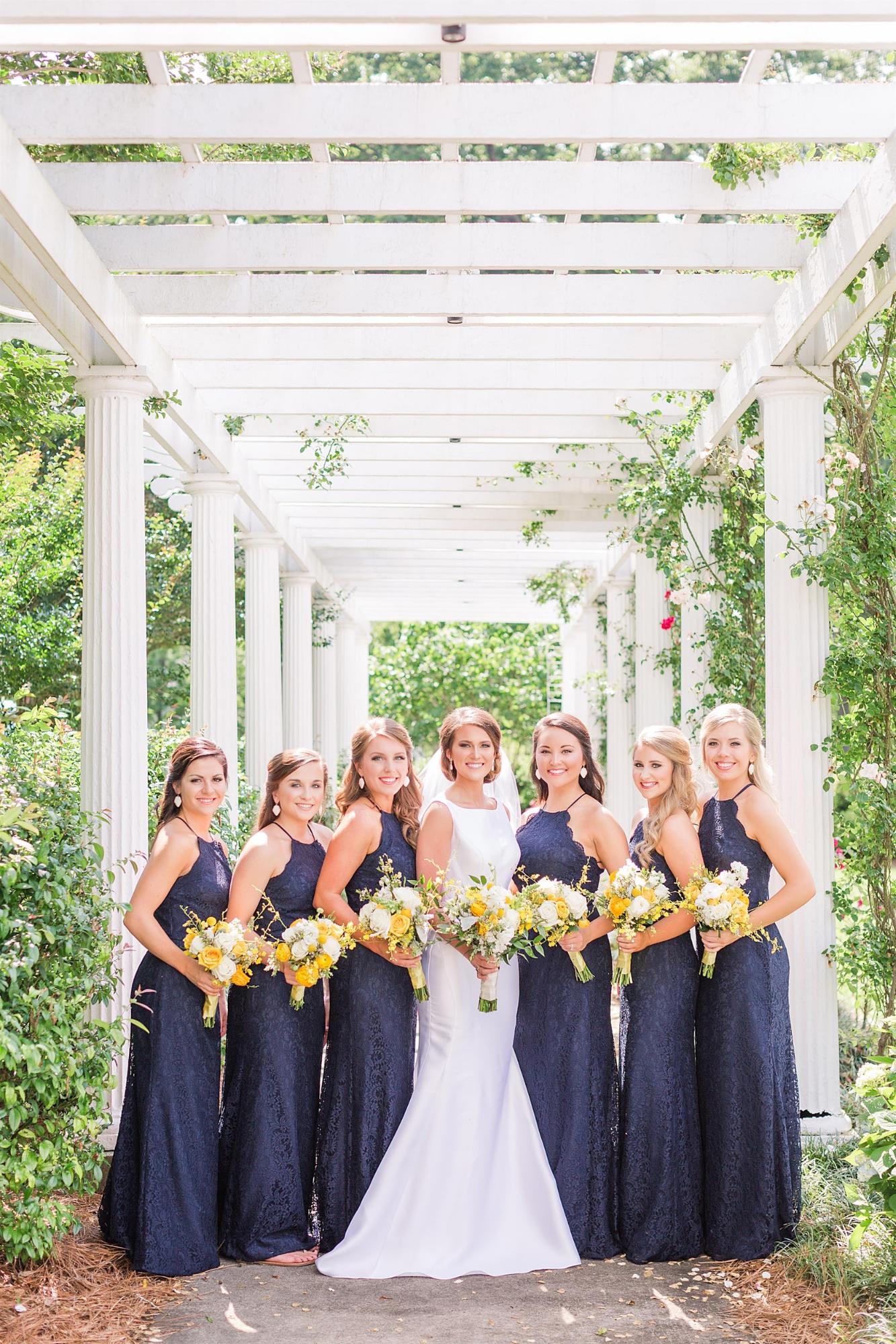 #DessyRealWeddings - Bridesmaids: Dessy Collection 2995; Color: Midnight; Photographer: @jennstuartphoto; "I knew from the moment I laid eyes on Dessy's bridesmaid dresses that I would not settle for any other style in my wedding. Every single one of my bridesmaid felt so confident and beautiful because of style 2995. There is no way to get six girls with completely different tastes in clothes to agree on one designer, but Dessy DID! Forever thankful to have had Dessy bridesmaid dresses!"
Navy bridesmaid dresses. Classic and sophisticated, navy bridesmaid dresses are a stunning choice for any season. Play up nautical themes for a summertime wedding or create a beautiful contrast against white snow for your winter nuptials.
Floral bridesmaid dresses. If you're saying "I do" in the spring or summer, your maids will love wearing floral bridesmaid dresses for your big day. This trend has serious staying power because there are just so many ways to make it your own. For instance, you can choose bold, splashy florals or keep your prints small and soft, depending on your personality.
Mix-and-match bridesmaid dresses. There is nothing better than a mix-and-match bridal party. This trend makes shopping for bridesmaid dresses a total breeze because everyone gets to choose their own dress style. Although you do want to set a few limitations (i.e., everyone must choose the same color or dress length), the key is to slightly relax the rules. As long as you pull this trend off the right way, we promise that you'll be more than happy with the results.
Plan Your Dress Shopping Experience
For many soon-to-be brides, choosing bridesmaid dresses is a once-in-a-lifetime experience that they simply can't imagine doing without their besties. For other brides, it's a chore that is easier for everyone to do by themselves in their own time.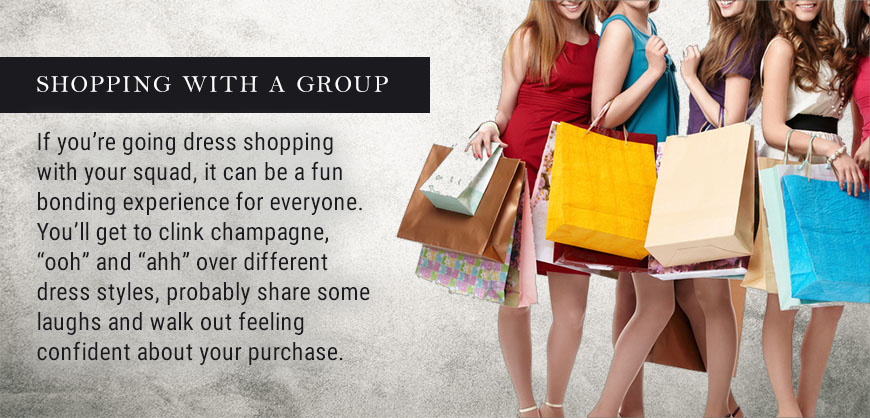 Which dress shopping experience is right for you? Consider the following:
Shopping with a group. If you're going dress shopping with your squad, it can be a fun bonding experience for everyone. You'll get to clink champagne, "ooh" and "ahh" over different dress styles, probably share some laughs and walk out feeling confident about your purchase.
Shopping solo. Shopping by yourself is easy, fast and a smart choice if you have some — ahem — highly-opinionated bridesmaids who may ruin the dress shopping experience for you. Besides, some of your bridesmaids may prefer to try on their dress alone and do their shopping when it's convenient for them. If you go this route, just make sure that you set clear parameters and have everyone check in with you before they order their dresses.
While we're on the subject, don't forget to get all your bridesmaids professionally measured! It's incredibly common for bridesmaids to get the wrong size, so be sure to get their measurements and check the designer's size chart before you place an order.
Think About Bridesmaid Dress Accessories
Don't forget to look at bridal accessories for your bridesmaids. From a killer pair of heels to sparkling jewelry, the small details can add the perfect finishing touches to everyone's look.
Choose comfortable yet stylish shoes. If your bridesmaids will be walking on grass to reach your outdoor wedding venue, skip the stiletto heels and opt for something more practical. A pair of wedges, bridal flats or shoes with a low heel will help save them from disastrous falls in muddy grass.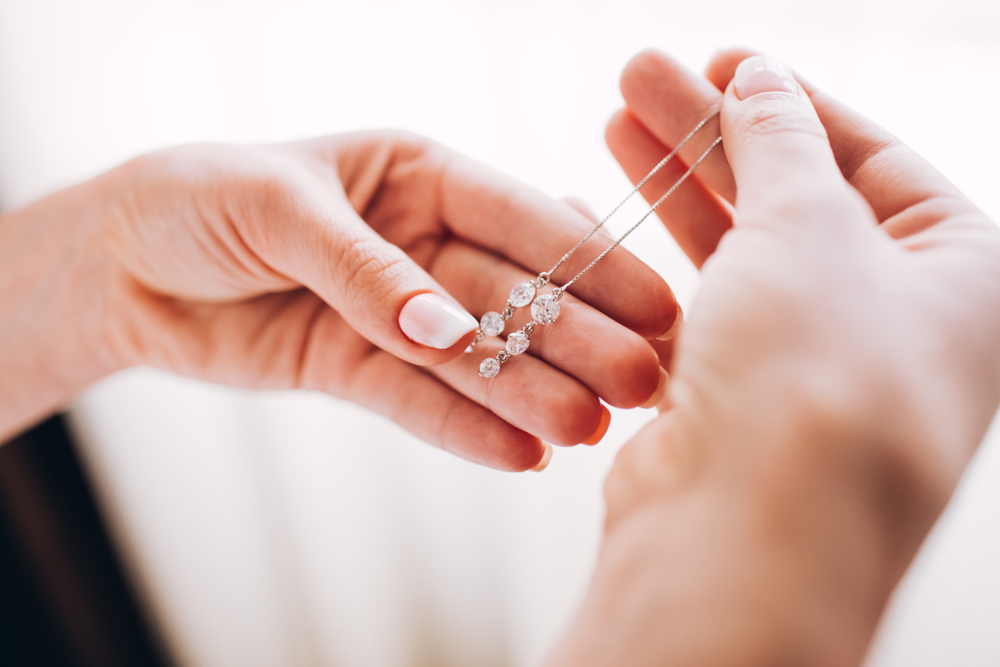 Always match your metals. If you're giving your bridesmaids rose gold earrings, make sure that the rest of their jewelry is also rose gold.
Keep it simple. Be careful about going overboard with bridal accessories. While you should let them have a say in which accessories they choose, give them some guidelines so you won't have any unpleasant surprises on your big day.
Consider cover-ups. In fall and winter, be considerate to your bridesmaids by giving them something to shield themselves against the cold. Having them wear cozy pashminas or evening shawls can elevate your bridal party look while serving a practical purpose.
Additional Tips to Keep in Mind
Consider simple dress styles. If you want to look back at your wedding photos without cringing at your choice of bridesmaid dresses, keep their look simple. Clean and simple dress styles are timeless and are less likely to look horrible in photos 10 years from now.
Make your MOH stand out. As the most special member of your bridal party, your maid of honor deserves some recognition. Consider outfitting her in a different bridesmaid dress style or color than everyone to make her stand out. It will make her feel extra special on your big day — as she should!
Choose junior bridesmaid dresses carefully. If you have junior bridesmaids in your bridal party, make sure that you choose a junior bridesmaid dress that is age-appropriate and comfortable. Also, keep in mind that her parents will be paying for the dress. Be considerate by choosing a reasonably-priced gown.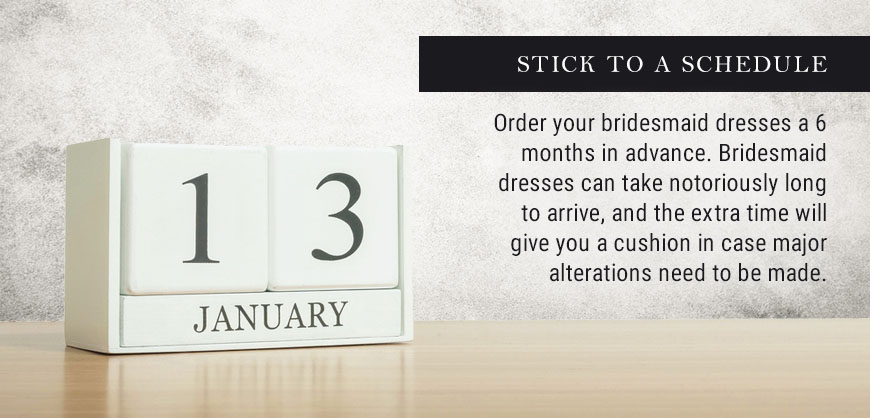 Stick to a schedule. Be sure to order your bridesmaid dresses a minimum of six months in advance. Bridesmaid dresses can take notoriously long to arrive, and the extra time will give you a cushion in case major alterations need to be made.
Be open to suggestions. If one of your bridesmaids comes to you with a suggestion or a concern about their bridesmaid dress, try to be open and understanding. Maybe one of your plus-sized bridesmaids is struggling to feel confident in the dress style you're seriously considering for everyone. As a good friend, you should be willing to listen when she has a legitimate concern.
But remember that you're in charge. At the same time, you'll want to recognize when one of your bridesmaids is being completely unreasonable. If your bridesmaid is making a huge deal out of wearing a yellow bridesmaid dress because it doesn't work with her complexion, feel free to ignore her and do exactly what you want. Remember, this is your wedding and you should have the final say in what your bridesmaids wear for your big day.
Final Words of Advice
Choosing bridesmaid dresses can be super stressful. It can also be an amazing and unforgettable experience that you and your besties will cherish forever.
If you want your bridesmaid dress shopping experience to be stress-free, start shopping early and take things one step at a time. Not only will things feel far less overwhelming, but you'll also be more likely to end up with bridesmaid dresses that everyone will love.