Engagement rings that will make you want to say yes, yes and YES!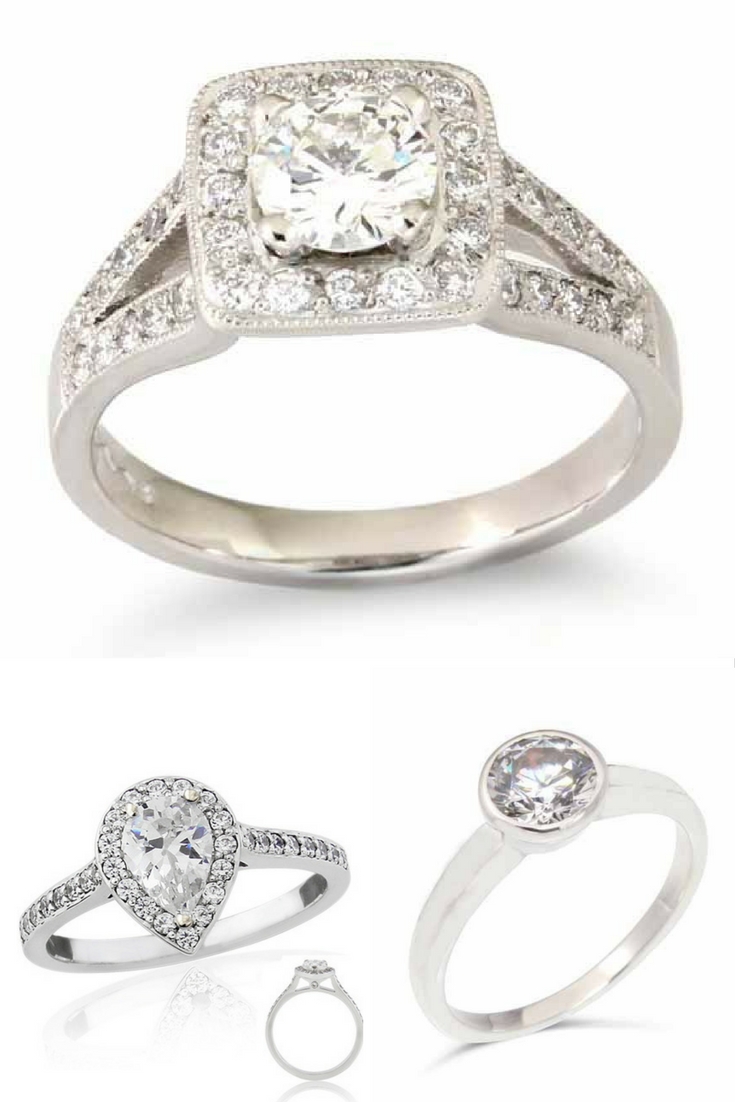 Aah. Engagement rings. Those pretty, sparkly pieces of jewellery that say so much.

Like "will you marry me because I want to spend the rest of my life with you". Sigh.

How will you choose your engagement ring?
May your fiance popped the question, went down on one knee and surprised you with a ring already picked out.
Or maybe you both want to choose a ring together?
An engagement ring is a something that's probably going to be a significant financial investment. So you need to know you're buying the best for your budget.

Here's to know what to look for, what to avoid and how to choose a ring you're going to love for years to come.


Key tips for when you go out engagement ring shopping
Choose a style of ring your partner will want to wear forever
Look at the jewellery they wear everyday. There's no point in buying a vintage style if your partner prefers a contemporary style
Think about the stones you're going to choose. Will your partner want diamonds. If so how many?
How about colored stones?
Would a combination of diamonds and sapphires or other gemstones be more appropriate? Not all gemstones are hardwearing, and it might be worth avoiding those that aren't, such as emeralds or aquamarines.
When diamonds are the choice, color, clarity and size should all be taken into consideration.
However the most important is the cut of the diamond and the colour which will give it its bright sparkle. A twinkly diamond will always catch your eye.
The shape of an engagement ring is important too. Think about the style of wedding ring that is going to be worn with it. You can fit a shaped wedding ring around your engagement ring but maybe you would prefer a traditional straight band?
Think about lifestyles. A high-set engagement ring is beautiful but also more liable to get knocked or caught. So if the wearer has an active job something lower set would be more practical.
The ring metal is also a choice to think carefully about. Platinum will keep its naturally white colour for a lifetime, but is the most expensive and rarest of the precious metals. Palladium is also part of the platinum family, and is hypoallergenic and so won't irritate the most sensitive of skin and also stays naturally white.
White and yellow gold are still regularly the preferred metal, with rose gold becoming ever more popular. In its natural state, 9ct white gold is a beige colour and 18ct white is more of a dark grey and both require rhodium plating to give it a bright white finish. This plating will wear with time and the original beige or grey colour can be seen again. A re-coating will be needed to bring back the lovely white finish.

A six claw diamond solitaire engagement ring
Cleaning and caring for an engagement ring
As with all jewellery, avoid harsh cleaning products, chlorine and other caustic substances, especially if you have a white gold ring, as they can damage the rhodium plating.
Rings with gemstones can be cleaned with warm soapy water and a soft toothbrush to remove the build-up of grime.
Take off your engagement ring if you're doing any activity that may scratch or catch it.
A classic diamond and sapphire cluster
Photo credits: All images and rings via CoolJoolz, infographic via Gemvara