5 Stylish and Comfortable Wedding Shoes to Wear for Your Big Day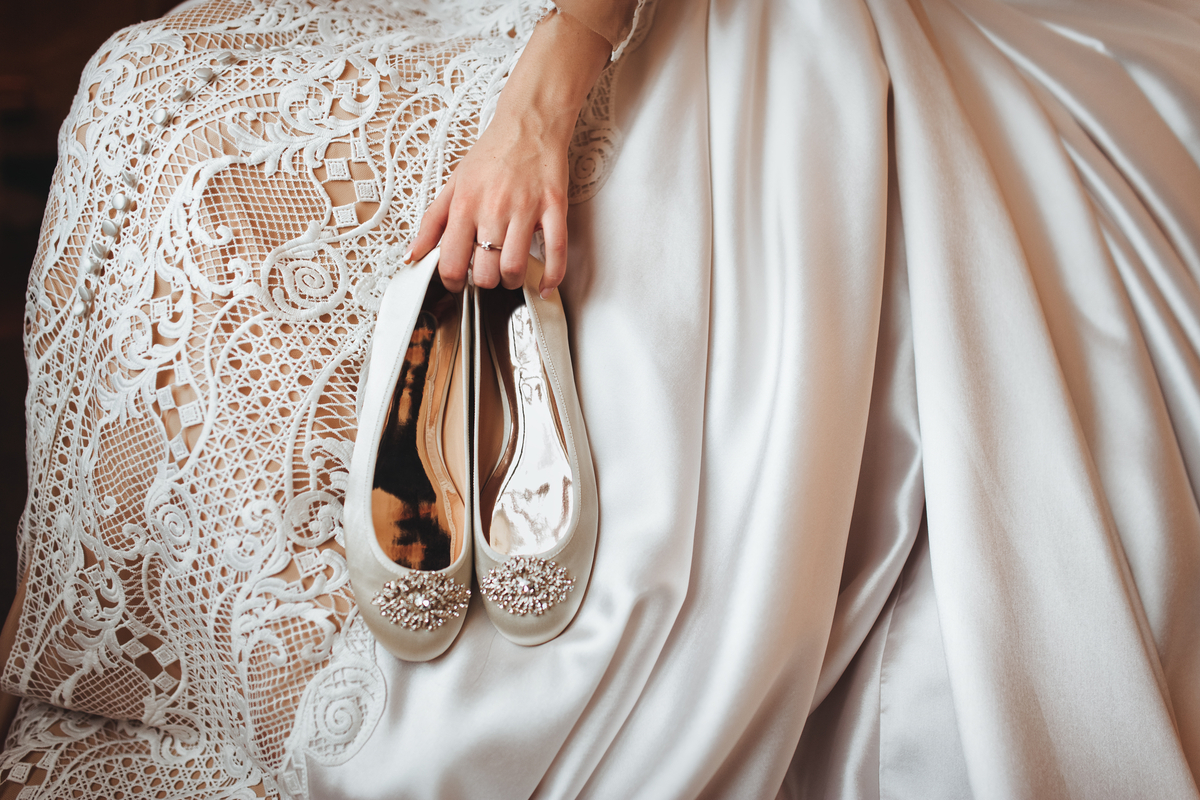 Adorned with eye-catching beads and stunning embellishments, many wedding shoes are simply too pretty to resist. It's no surprise that so many brides are lured into buying uncomfortable wedding shoes which they inevitably kick off halfway through the night.
As the bride-to-be, one of the main things you'll want to keep in mind while shopping for wedding shoes is your comfort. Remember, you'll be standing on your feet all day as you talk with your guests, and you'll likely be doing a fair amount of dancing, too!
By choosing comfortable wedding shoes that go easy on your poor feet, you can avoid post-wedding blisters and the embarrassing hobble to your getaway car. Below, we've rounded up five stunning pairs of wedding shoes that earn top marks in both comfort and style.
1. Bridal Flats
It's all too easy to feel pressured into wearing sky-high heels on your big day. After all, how are you supposed to get that coveted wedding shoe picture with a pair of flats?
Before you dismiss the idea of wearing comfortable bridal flats, hear us out: Bridal flats can be a stylish and practical alternative to painful heels. They're also far easier to walk in if you're having an outdoor wedding.
Don't forget, you can also wear heels and flats on your big day by simply alternating between the two. Just be sure to bring both pairs to your dress fitting so that you're not tripping over your dress.
2. Bridal Sandals
Are you having a beach destination wedding? A pair of bridal sandals with pretty gemstones is the perfect choice for your seaside nuptials and will be super comfortable to boot.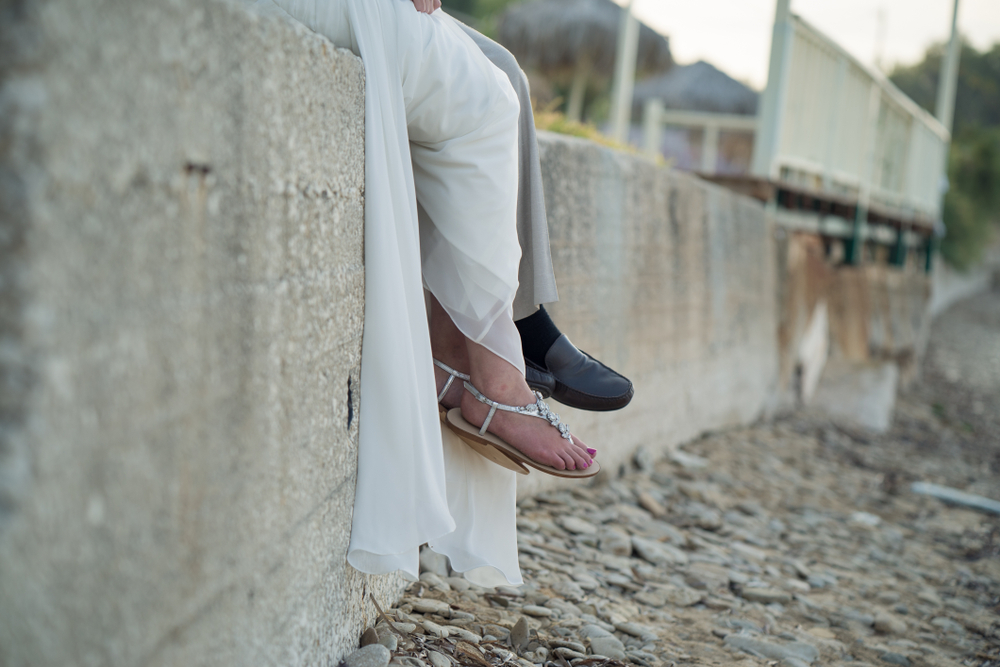 Even if you're not having a beach wedding, don't rule out bridal sandals just yet. They can also work as a backup pair of shoes for the dance floor. Simply switch out your gorgeous heels for sparkly sandals and you can bust a few moves with your girls without compromising your bridal style.
3. Wedge Heels
If you want additional height without sacrificing comfort, look for a pair of comfortable wedge heels. Wedge heels help distribute your weight more evenly than a stiletto shoe, which results in better balance, stability and, of course, comfort.
Keep in mind that just because they have a wedge heel doesn't necessarily mean they're going to be comfortable. You may want to consider buying gel insoles for them to enhance their comfort.
4. Block Heels
Similar to wedges, low block heel shoes are definitely one of the more comfortable heels you can wear on your big day. The heel is much chunkier than a stiletto, which helps distribute weight evenly to keep you going on the dance floor without cringing in pain (trust us, not a good look for your wedding album).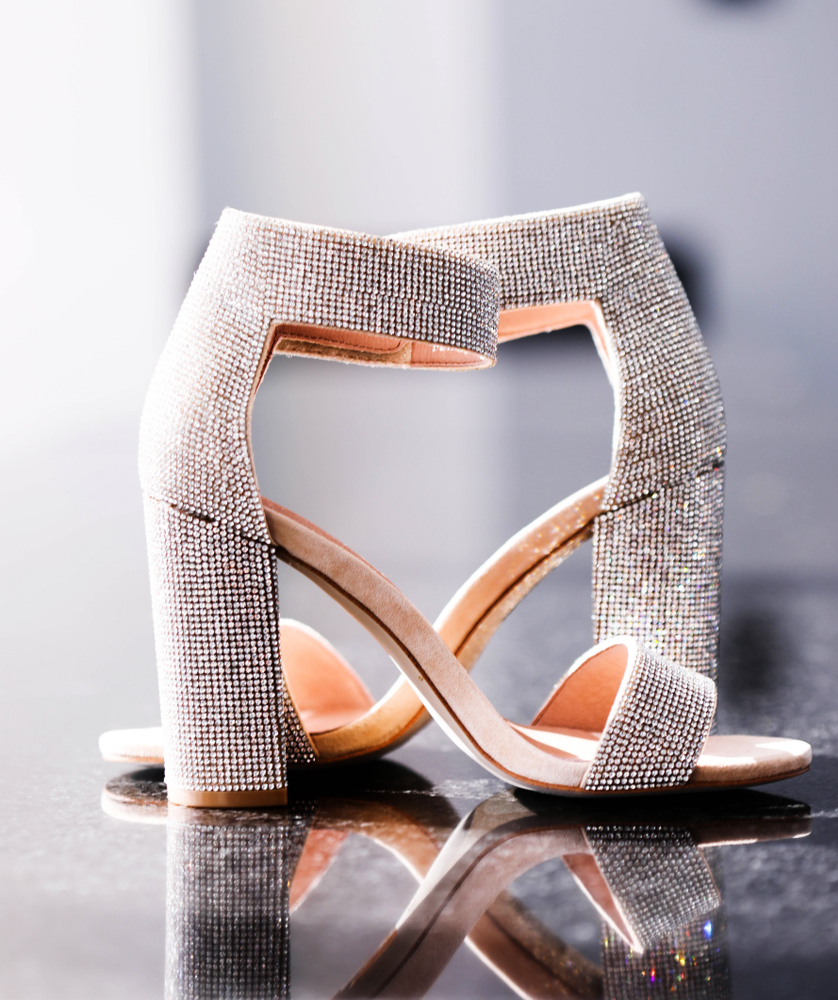 Block heels are particularly trendy right now, so why not take advantage and get yourself a stunning bejeweled pair? Consider choosing a pair with a low block heel to maximize your comfort and give your shoe a retro-inspired vibe.
5. Sandals with Adjustable Straps
If you can't fathom the idea of giving up heels on your wedding day, consider wearing sandals with heels and adjustable straps. The adjustable strap makes it easier to get the exact fit you want, which reduces the chance of painful blisters and sore feet.
To further minimize pain, look for a strappy sandal with a wide width and a low block heel. This way, you'll get the feminine flair you want without all the unnecessary pain.
Additional Tips to Maximize Your Comfort and Style
Choose your shoe material wisely. The most uncomfortable shoes are typically ones that have zero breathability or flexibility to them (i.e., plastic and vinyl). Look for shoe materials that have some stretch to them instead.
Try on shoes during midday or evening. Your feet tend to swell during the day. If you ordered shoes online, it's best to wait until midday or evening to try them on so you can get a more accurate sense of how they truly feel.
Don't try to break in your shoes. If your shoes don't feel good when you put them on, there is no hope in "breaking them in" to improve their comfort. As much as it may pain you to pass on those insanely-gorgeous wedding heels, you'll be so grateful you did later.
Prioritize Comfort on Your Big Day
If you're struggling to find the perfect pair that doesn't pinch, rub or scratch, you're not the only bride with this problem. Finding comfortable bridal shoes that manage to look and feel amazing can seem like finding a needle in a haystack.
The key is to give yourself plenty of time to find a comfortable wedding shoe that checks off every box. Once you have your wedding dress, there is no time to lose! Start shopping ASAP for wedding shoes and you'll eventually find your "sole" mate.