Brand Spotlight: Jenny Packham Bridesmaid Dresses
When you're flipping or clicking through page after page of bridesmaid dresses, they may start to lose their luster. But occasionally you'll stumble across a dress designer who totally vibes with your unique wedding-day vision, whether it's ultra-glamorous or subtly sophisticated. In addition to capturing your exact theme, a good bridesmaid dress must also be flattering for all and versatile enough to suit a plethora of bridal themes. For many, the dress designer who meets and often exceeds these expectations is Jenny Packham.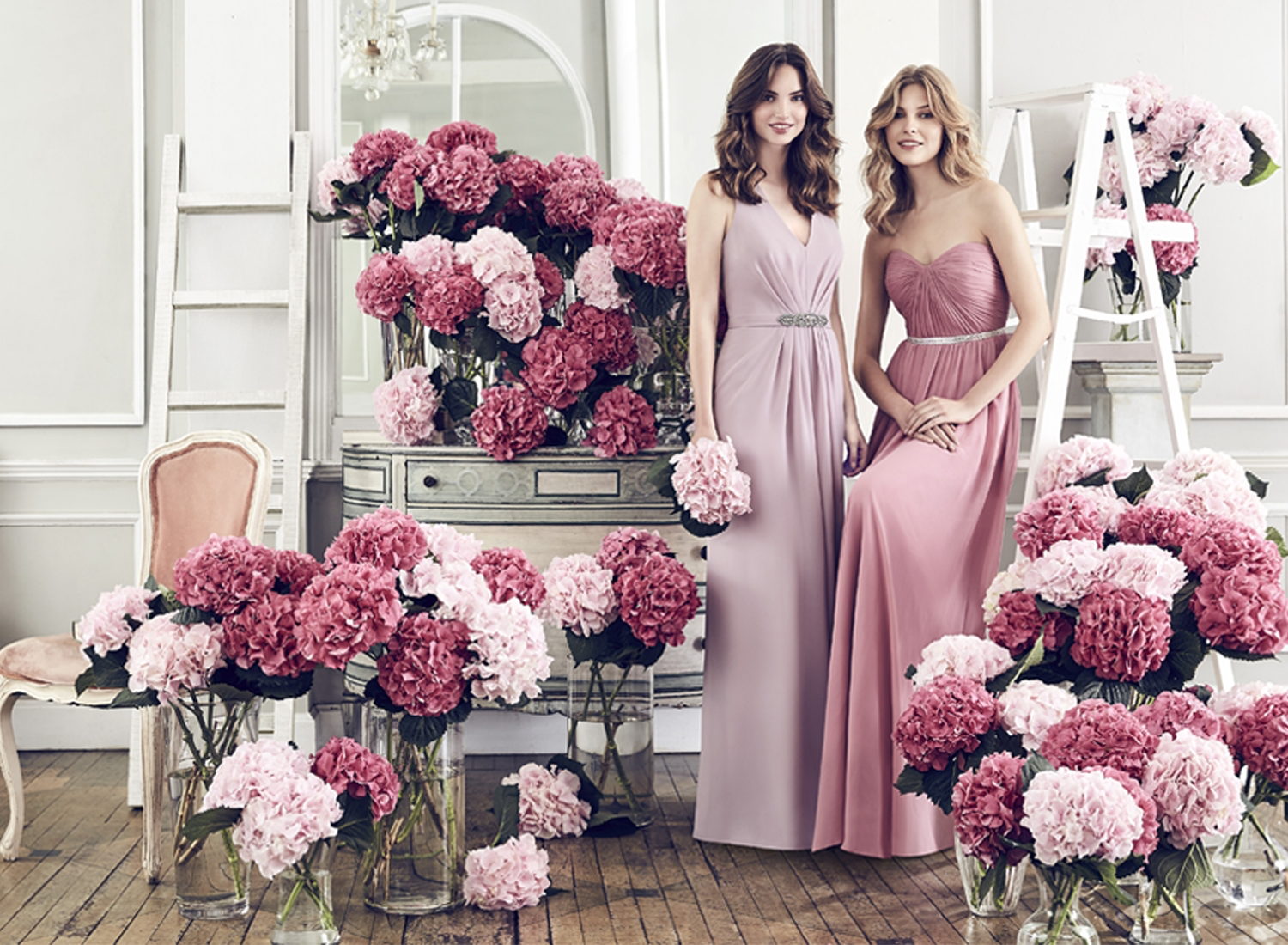 About Jenny Packham
Known for a style Vogue describes as "dazzling feminine glamour," red carpet designer Jenny Packham is known throughout the fashion world for dressing celebs in bedazzled formal gowns that exude high style. She has dressed all sorts of British style icons, including Kate Winslet, Emily Blunt, Keira Knightley and, yes, the Duchess of Cambridge herself. In fact, Kate Middleton has been known to step onto many a red carpet in Packham's creations, including several from her ready-to-wear collections.
Packham's masterpieces have been seen all over the big screen. You may remember the bespoke gown Packham designed for British Oscar winner Adele back in 2013 or the one designed for Emma Watson to wear in Harry Potter and the Deathly Hallows. Her gowns have also made appearances in Sex and the City, Gossip Girl, Casino Royale, The Devil Wears Prada and Die Another Day. Indeed, they are some of the most photographed gowns in all of Hollywood.
The British-born, London-based designer studied fashion at Saint Martin's School of Art in London before founding her namesake line in 1988. But it wasn't until 1997 that Packham unveiled her bridal collection, instantly skyrocketing her into the world of bridal style. Her current collections include wedding dresses, ready-to-wear formal dresses, children's occasion wear and, now, bridesmaid dresses. Dessy has teamed up with this beloved designer for the creation of the truly exceptional Jenny Packham bridesmaid dresses.
Styles We Love
In addition to her stylish ready-to-wear women's gowns, we can't help but drool over the Dessy exclusive Jenny Packham dresses. Let's take a look at some of our favorite bridal party styles by this must-wear designer.
Jenny Packham JP1015 — This pretty floor-length bridesmaid dress perfectly captures the dazzling feminine glamour for which Packham is known. Available in dozens of different colors, the JP1015 gown features an elegant, airy lux chiffon material that's glammed up with stacked mirror bead trim along the bateau neckline.
Jenny Packham JP1006 — Simplicity meets sophistication with this pretty, ruffly bridesmaid gown by Ms. Packham. It has a totally airy and feminine look thanks to the ruffly V-neckline, delicate spaghetti straps, high-low skirt and open back. Not only does it come in lots of staple solids, but it can also be ordered in a few sweet patterns — including fresh florals — for a fabulously fun feel.
Jenny Packham JP1005 — A flattering choice for all your bridesmaids, this pretty and simple empire waist bridesmaid dress offers shirring at the V-neckline with a crisscross midriff for full-body flattery. You'll also love some of this gown's vintage touches — it's ideal for that Old Hollywood glam feel!
Picks from the Jenny Packham 2019 Line
Here at Dessy, we're delighted to share with you some of the greatest selections from this year's Jenny Packham bridesmaid line. These sweet styles will surely help you create a bridal look that's all you. Here's a sneak peek!
Jenny Packham JP1024 — The wide band at the waistline of this calf-length bridesmaid dress makes it totally flattering for many body types. Like the JP1005, this look offers some vintage vibes for the bride who loves mid-century style.
Jenny Packham JP1021 — This slightly more formal Jenny Packham bridesmaid dress gets a glamorous finishing touch with the help of its sheer cap sleeves. An elegant, pleated skirt and V-neckline provide the perfect detailing for the bride's crew.
Jenny Packham JP1023 — Love a simple look but don't want to compromise on the glamour? This gorgeous and glammed-out style has two glimmering, beaded bands at the waist plus a unique column neckline for a high-fashion (and subtly sparkly) approach to bridal style.
Finding Your Dream Gown by Jenny Packham
Dessy is here to help you find the perfect Jenny Packham dress for your bridesmaids. We're committed to simplifying the process of buying bridesmaid dresses online, so we offer simple sizing, and effortless customer service to help you get the exact look you're after. Plus, we happily stock our gowns — including our Jenny Packham gowns — in many retail locations throughout the U.S. Try one on today!